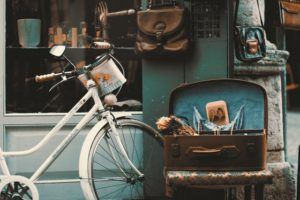 A friend of mine often jokes she keep bringing bags of things into her home, but never bring any bags out. Clearly, this strategy eventually reaches its limit. At some point, we do need to let go of our treasures.
Purging is a highly effective way to simplify busy lives. An excessive amount of "stuff" consumes our time, energy and resources. "Stuff" needs to be organized, stored and safeguarded. This all takes precious time and expands our footprint. The amount of stuff in a home is directly correlated to several negative consequences, including how and what we eat, and our stress levels.
We may know we need to get rid of things, but there are usually several obstacles in the way. We might feel emotionally attached, we might truly believe we will use everything we are holding onto, or we simply may not have the time to sort through the piles.
Sometimes the problem is as simple as not knowing where to send our previously loved items. You might not want to send it to a landfill (thank you), but instead wish to pass it along to someone else who will benefit from and value it.
On that note, our team has compiled a list to help you identify new homes for your previously loved items. If you don't see organizations that serve your neighbourhood, we encourage you to search for similar local options.
In a single year, Canada produces enough textile waste to create a mountain 3 times the size of the Rogers Centre stadium in Toronto. 
Clothing and household items
Diabetes Canada accepts small household (including kitchenware) and electronic items, gently used clothing, footwear and toys. Electronic items include cell phones, laptops, tablets, iPods, digital cameras, and gaming consoles. Diabetes Canada has been in partnership with Value Village since 1985. Your donated items are picked up and delivered to Value Village stores and in turn, the reusable goods donation program is paid for the volume of goods delivered. These funds are then used to support world-leading research, programs and services. Click here for a full list of the items they collect.
The Kidney Foundation of Canada accepts used clothing donations through Kidney Clothes and uses the funds for research and educational programs. Items include all "cloth-based items" such as gently used clothing, footwear, purses, blankets, bedding, pillows, and luggage.
Once Upon a Child buys gently used children's clothing on-the-spot, including school uniforms (in some locations), costumes, dancewear, outerwear, and also books and toys. There are locations across the U.S. and Canada.
Little White Sneakers buys high-end children's clothing, in new, or practically new, condition, including shoes, boots, bathing suits and some high-quality toys. Their business model promotes sustainable fashion through social responsibility, favouring quality over quantity, local brands and sustainable fabrics. They offer a concierge-style service where they process, photograph and sell your outgrown children's clothing for you. Drop-offs are accepted at their two retail locations in Toronto by appointment only. A complete list of accepted brands is available here.
Little White Sneakers has partnered with New Circles, the largest clothing bank in Toronto serving all ages. New Circles provides qualifying families, many of whom have only recently arrived in Canada, with access to free, gently used and new clothing, shoes, accessories and other basic necessities. Through this program, a family of four can save up to $5,000 a year on clothing. Donation guidelines are available here. When you contact Little White Sneakers to schedule a pick-up for their store, you can let them know if you have clothes for donation to New Circles and they will pick up those too for delivery on your behalf.
Dress for Success welcomes donations of high-quality, new and nearly new, professional women's apparel. Their mission is to empower women to achieve economic independence by providing a network of support, professional attire and development tools to help women thrive in work and in life.
The Swap Shop at Jessie's, The June Callwood Centre for Young Women, accepts donations of baby clothes and equipment, clothes for young women, maternity clothes, and many useful household items. Jessie's offers services and support to women ages 19 and under who are pregnant or have children. Click here for a list of items currently in need.
Romero House is a community housing effort in Toronto's West end that helps refugee families get on their feet. They accept "in-kind" donations of seasonal women's, men's and children's clothing (in good condition), bedding, towels and kitchenware.
Sistering Day Shelter provides basic services to women who are homeless or low income and looking for a safe and welcoming place to go during the day. They need gently used clothing, towels and blankets, seasonal items, and especially items for women.
Red Door Family Shelter accepts donations to support their mission to provide families with safe and supportive emergency shelter. Their site is updated regularly with the items they are currently accepting.
Yonge Street Mission has been turning lives around and helping people out of poverty since 1896. Their programs and services support youth, lonely seniors and families of recent immigrants.  Their Double Take Thrift Store gratefully accepts donations of gently used clothing, linens, housewares and furniture. Donations are accepted year-round at their in-store drop-off location during store hours.
Red Propeller, providing sustainable employment to those with physical, mental or social barriers, diverts unwanted (but recyclable) materials from our landfills by recovering and re-purposing the materials. They recycle VHS and media tapes, as well as child safety car seats. Visit their website for details on how to get your items to them.
Divine Decadence is a consignment shop that accepts vintage and one-of-a-kind items.
Haute Classics will purchase your brand name and designer clothing and accessories.
House of Vintage is a vintage boutique specializing in one-of-a-kind and designer pieces for men and women. Selection ranges from designer gowns to denim.
L'Elegante Boutique is a high-end, ladies fashion and accessory consignment store. Book an in-store appointment or arrange for home pick-up.
Oasis Clothing Bank provides a helping hand on the road to addiction recovery for over 800 people annually. Many are in the process of overcoming employment barriers and other obstacles. All donated items are either given to participants in the Oasis Addiction Recovery programs or sold to partly fund the programs themselves. They accept clothing (for men, women and children), footwear, bedding, purses, luggage, kitchenware, toys and games, stuffed animals, electronics, CDs, DVDs, small sports equipment, lamps and artwork. They do not accept furniture. A complete listing is available here.
Of Things Past accepts better quality home furnishings in good condition, wall décor, floor decor and accessories on consignment.
Pegasus Community Project for Adults with Special Needs is a registered Canadian charity providing community based day services for adults with developmental disabilities. Their Thrift Store accepts donations of clothing, household items, jewelry, shoes, purses, antiques, books, and other treasures. Operated by Pegasus participants, the store supplements the organization's regular service offerings by providing an opportunity for skill development and participation in community life.
Second Time Around purchases designer clothes and accessories if they are in great condition.
Local schools: Many schools accept gently used uniforms.
Local churches: Contact them to inquire about accepting donations.
If your local community Waste Management Centre offers something similar to York Region's Bindicator, this is a great resource to take advantage of. This is an online search portal where you enter the item you no longer need or select a category (such as Electronics) and the Bindicator will find the best option for where it should go, whether it's a re-use donation centre, a community drop-off location, or in some cases, the garbage.
Sporting goods
Play it Again Sports buys and sells used sporting equipment. Trade in old equipment for credit towards new and gently used equipment.
Second Kicks collects and distribute used soccer uniforms and equipment to needy communities in Canada and around the world.
Your local sporting association (e.g., hockey association or dance studio) may run annual collections of gently used uniforms and equipment. Some associations send these to underprivileged organizations across Canada and abroad. Contact your local association for details.
Electronics
reBoot Canada diverts computers and other electronics from landfills and ensures your used computer equipment donations are properly refurbished and remarketed, or responsibly and safely broken down for components. Donations are used to provide non-profits, charities and individuals with access to subsidized technology, software and training. They accept laptop and desktop computers (PC/Apple), monitors, mice, keyboards, printers, routers, hard drives, webcams, video and digital cameras, cords and cables, cell phones, and more. They will pick up (for a fee) or you can drop off donations at one of their drop-off depots.
You can also make use of online marketplace tools like FaceBook Marketplace, KiJiJi, VarageSale and others, to pass along working electronics you are no longer using. (See below under "Everything but the kitchen sink").
Local Community Waste Management Centre: For unsalvageable e-waste, and household hazardous waste, consult your local Community Waste Management Centre for instructions on safe removal and disposal.
Furniture and building supplies
Around the Block specializes in contemporary, vintage, and antique home furnishings on consignment. Email your photos first, especially for large pieces and they will respond via email or phone.
The Furniture Bank redistributes gently used furniture and household goods to the formerly homeless, as well as women and children escaping abusive situations, refugees, and newcomers to Canada. They pick up furniture (or you can drop off) and they provide a donation receipt for taxable purposes. Here is a list of items they accept, including pictures and wall hangings.
Furnishings on Consignment accepts all styles of furniture for consignment. Send a photo of the pieces and they will set up an appointment to view the items.
Habitat for Humanity Restore accepts building materials including windows, doors, paint, hardware, lumber, tools, lighting fixtures, furniture and appliances. Arrange for drop-off, pick-up or dismantle services.
Art
ArtsJunktion is a program run by the Toronto District School Board to support teachers and students by enriching classroom projects, in-school creations, and visual arts classes. They receive and distributed donated material and non-toxic art supplies and accept a wide range of items including file folders, sewing machines and fabric scraps. (Open only during the school year on Tuesdays and Thursdays).
Oasis Clothing Bank and Furniture Bank accept donations of artwork (see above).
Books
The Children's Book Bank depends on donations of new and gently used children's books from the community to support programming for low-income neighbourhoods across Toronto. Donations should be for kids from birth to 12-years-old, in new or gently used condition (no missing covers, torn pages or writing inside), and printed within the last 10 years.
Contact your local library to ask about their programs for accepting gently used books. For example, the Toronto Public Library accepts and sells donated books to fund library programs and services.
Once Upon a Child accepts gently used books (see above under "Clothing and household items").
Local schools: Contact them to inquire about accepting gently used books.
Medical equipment
The Canadian Red Cross accepts donations of some medical equipment including: wheelchairs, walkers, crutches and canes, bath seats and benches. A complete list is available here.
Everything but the kitchen sink
TerraCycle is on a mission to eliminate the idea of waste. They do this by creating waste collection programs (each one is called a "Brigade") for previously non-recyclable, or difficult to recycle, waste. The collected waste is then converted into new products, ranging from recycled park benches to up-cycled backpacks.
Sell My Stuff is Canada's largest high-end content and estate company. They employ an efficient and organized process to help you deal with the disposal of an entire estate, or simply the contents of a home. They offer a free consultation to get you started.
VarageSale is your "online garage sale" providing a localized way to declutter and sell unused items simply and safely.
And now, FaceBook Marketplace makes it easy for you to sell directly within your area, if you are looking for an alternative to KiJiJi, eBay and craigslist.
Do you have an organization to add to this list? Please share in the comments below. Let's all work together to pass our treasures along to new owners. And in the meantime, we'll streamline our homes of unused items and avoid adding more stuff to landfills.