At this time of year, I can't help but think about resolutions, regardless of how cliche it seems. I just love the idea of new beginnings, wiping the slate clean and starting out fresh again. So I wanted to take this opportunity to share my top 10 productivity resolutions for 2017. I'm hoping that you'll agree that these are worthwhile goals.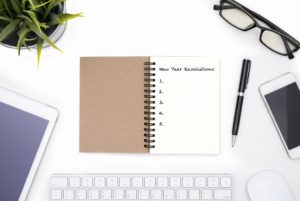 #10. I will adopt the One Touch Principle more often, especially when I'm using my smartphone (which makes it oh-so-tempting to simply read emails but not deal with them). I am ok scanning for urgency, but I will only read an email once.
#9. I will build more focus time into my day. And I'll use this uninterrupted, protected time for one of my biggest projects: writing.
#8. I will continue to maintain my World-Class To Do List, because I know that all productive work habits are grounded in this one simple, yet powerful tool.
#7. I will organize my office storage room. Organization truly is a productivity driver, but there is something about the storage room that has eluded me this past year. My office manager is smiling as she's reading this – she's been on me to do this for much longer than I should be admitting!
#6. I will adhere to a routine built around my priorities.
#5. I will take more opportunities to leverage the amazing help of those around me. I can't grow if I try to do it all myself.
#4. I will set deadlines to help curb the temptation to procrastinate.
#3. I will fit fitness into my day because I know it makes me more productive (not to mention healthier). Some days it will just be 10 minutes and other days it will look more impressive. But I'm not going to let this slip off the radar in 2017.
#2. I will organize my day to protect time for a solid night of sleep. And I'm talking about 8+ hours. Ahhhhh. Pure bliss!
#1. I resolve to take time for my family and myself to do all sorts of unproductive things. Because after all, that's what we work so hard for!
So those are my productivity resolutions. What are your plans for 2017? I'd love to hear about them!
All the best to your success and thanks for your time,
Ann