We can all probably think of a few times when we needed to deliver a difficult message and may have used email instead of a conversation. We may have felt it appropriate due to convenience, distance, timing or other practical reasons. But often enough it's also partly influenced by our lack of confidence or skills in effectively delivering the message live.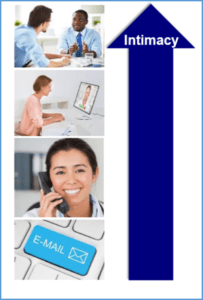 Sometimes this less intimate form of communication (when addressing a challenging topic) works out okay. But is this really a gamble you're willing to make? Sometimes we regret this decision. Each time we handle a sensitive issue via email, we have missed an opportunity to build our skills mastering challenging conversations. We also lose the opportunity to achieve a better outcome.
And, as a general rule, the more challenging or emotionally charged the communication is, the more likely it warrants live two-way conversation.
What is a challenging conversation?
A challenging conversation is "any conversation that negatively impacts your mood or productivity". By definition, this is a subjective experience (with different people experiencing varying degrees of impact) so depending on your individual sensitivity, it may be an imperative to develop these skills.
How often do you encounter a challenging conversation?
We surveyed client service professionals and were surprised to learn that approximately 75% experienced a challenging conversation, as often as one to five times per week.
The participants indicated that the conversations occur most often for two primary reasons:
The topic itself prompted disagreement or opposing views
The individuals involved had an adversarial relationship or personality clash
Given the nature of many client facing roles, developing skills to navigate challenging conversations is definitely worth the investment.
Breaking down this important leadership skill set
In order to master navigating challenging conversations start by considering two important skill development areas:
Navigating: Effectively navigating challenging conversations requires that you improve your resiliency and skills in the moment. A good place to start is to understand the triggers you are vulnerable to. There's generally a finite number of things that trigger our reactivity and cause us to feel combative or defensive in a conversation. Many people for instance react strongly when someone questions their competence or commitment. Others may become defensive when their authority or integrity is questioned. Understanding your individual sensitivities and working through these insecurities will help you remain calm and resilient in the moment.
Preventing: Whether you are facing difficult topics or difficult individuals there is one universal truth … all challenging conversations are easier when you've built strong professional relationships. Getting proactive about relationship building and repairing tensions following a challenging conversation is one of the most important career building activities. Solid professional relationships facilitate all conversations and thus reduce the volume and frequency of challenging conversations.
Finally practice, practice, practice
Leaning into and embracing opportunities to experiment and refine your approach is the best way to improve this skill. The more you do this, the more confidently you can respond to any challenge with openness, resiliency, respect and trust in yourself and others. So don't go hiding behind those emails, – have a conversation!
Interested in learning more?  Ask us about our challenging conversations training.
Marisa Murray is a professional facilitator with Clear Concept and a Certified Executive Coach. Her passion is supporting her clients in unlocking their untapped leadership potential to yield superior business results with greater ease. Marisa's background includes over 20 years of advancing leadership positions in management consulting, technology and engineering. Sign-up to receive her weekly self-coaching tips: http://eepurl.com/bCWjgz